30-second summary:
There are ways to save and optimize your SEO budget; here's how

Create an "at a glance" report comparing your competitors' key metrics. Find exciting trends to look further into!

Analyze and monitor your competitors' online sentiment and customer satisfaction. How can you become better than your competitors?

Identify your competitors' marketing priorities by looking at their competitors' PPC tactics. Note the branded keywords they are bidding on: what do they consider their competitors?

Research your competitors' branded questions by analyzing "People Also Ask" and monitoring tweets queries from their customers and brand ambassadors.

Analyze your competitors' social media marketing tactics: what can you learn from these, and which should you avoid?
1. Competitors at a glance for domain analysis
You can never have just one competitor in the real world. In some niches, you'll end up with ten or more competitors that need your attention. Where to start? This is the section I usually begin my competitive report with competitors at a glance, which lets me easily compare my competitors.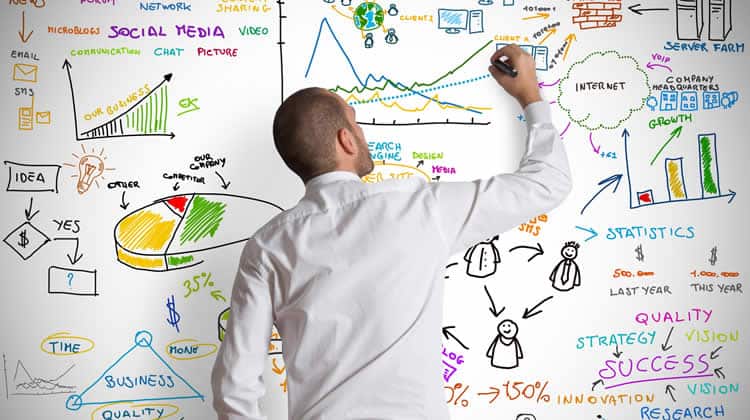 What should be included in this section?
This section includes any metrics that would allow you to spot some key trends:
How new or old is this competitor?

How big is the website? How many backlinks has your competitor managed to acquire?

What's their website traffic?
Seeing all these numbers side by side often allows you to see basic niche patterns or spot some compelling cases to explore further. For example, you can identify a new competitor with much organic traffic. Or you can find a competitor with fewer backlinks that managed to build solid web visibility. These are both excellent cases to learn from. Here's an example of how I use an "at a glance" method for my competitive research that is color-coded based on each competitor's success (green showing superior numbers). 
2. Online sentiment and customer satisfaction
How happy are your competitors' customers? Is there an opportunity for your product here? Is there a particular feature or aspect that makes your competitors' customers unhappy? Knowing why your competitors' customers are low helps on many levels, from learning the mistakes you must avoid to developing a better product covering a niche gap. So why do so many competitive reports fail to include this section? And that report is pretty easy to generate. Sentiment analysis and monitoring are doable with some advanced social listening that dives into the segmentation of consumer sentiment.
3. PPC keywords
Most competitive reports include organic keywords and positions, but how about PPC keywords? Whether you airplane invest in paid ads or not, knowing your competitor's PPC keywords will help you understand whether focusIt's an intelligent way to understand high and low-competition keywords without spending your dollars. When looking through my competitors' PPC keywords, I always pay attention to their branded keywords. Firstly, it shows the competitors they as a business take seriously. And second, this may inform my PPC decisions as there's a solid case for bidding on branded keywords because they tend to have high intent and are often cheaper. Here's an example of a branded keyword report from Ahrefs. Notice the 'Traffic' column estimating the number of clicks a particular PPC keyword is bringing to the target site:
4. Branded questions
Niche question research is helpful on many levels, but have you ever considered its usefulness for your competitive analysis? Questions people ask about your competitors will provide you with valuable insight into:
Your competitors' drawbacks (and how you can practically fill that need gap in the market)

Your customers' failures (and how to avoid them)

Your target customers' journeys (and how to best approach them)
When understanding your niche buying journeys, Google's People Also Ask results, known as 'intent questions', help you understand and visualize all the different paths consumers take when making buying decisions. Always note the "People Also Ask" results when searching for your competitors or their products. These help you understand your target customer's interests and research styles throughout their buying journeys.
You could also use some freemium-based tools to keep track of questions your competitors' customers are asking in real-time; use Twitter question search can also be monitored through a free app called Tweetdeck. Create a new column in your Tweetdeck to monitor this search term: Make sure there's a space between your competitor's brand name and the question mark.
5. Your competitors' promoters
Who are your competitors' most vocal promoters? Can you get them on board to promote your brand instead? Or how did your competitors manage to win their love? Your competitors' friends are not your enemies. These people may fall in love with your product or agree to collaborate on similar or better terms. Checking your competitors' backlinks is the most popular way to find their promoters, but it seldom includes people behind those links.  Social media is another excellent place to look for your competitors' promoters.
6. Social media content
Are your competitors using social media to find and engage your customers? There are some lessons to learn there as well. You can run a solid analysis of any Facebook page engagement metrics which you can use for your competitive report:
Conclusion
Competitive research is more than tracking your competitors' organic positions and checking their backlinks occasionally. It can give you much insight into your target customers, their struggles, and their buying journeys; it can teach you to build a better project and identify niche gaps. Finally, it can help you identify mistakes to avoid and develop a more substantial business. Good luck!